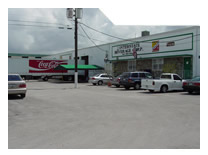 Presently, Ambassador can be found in countless restaurants and bakeries and in major supermarket chains in So.

Florida (i.e. Publix, Winn-Dixie, Sedano's, etc.), as well as North Carolina, Colorado, Texas, Los Angeles, The Caribbean and Europe.

Interstate stocks over 400 different products and handles exclusively Frica nectars from Venezuela, Club Colombia beer and Alqueria from Colombia, Coco coconut water from Thailand and carries category leaders such as Snapple, Gatorade, Coke and Pepsi, Goya, India Beverages, Malta Hatuey, Jarritos, Arizona, Materva, Jupiña, Crystal Geyser, and many more.